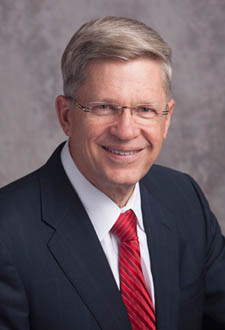 Dr. Hejkal is Professor of Ophthalmology and Chair Emeritus in the Department of Ophthalmology and Visual Sciences at the University of Nebraska Medical Center.
Dr. Hejkal received his PhD from Florida State University in 1978 and was Instructor at Baylor College of Medicine, Department of Virology and Epidemiology until 1981. He was Assistant Professor at Murray State University until 1985.
He was hired as Technical Director for MidWest Laboratories in Omaha, Nebraska until entering medical school at the University of Nebraska College of Medicine where he received his M.D. degree in 1990. He completed his ophthalmology residency in1994 at UNMC. He also completed a two-year fellowship in vitreo-retinal surgery at UNMC in 2006. Since joining the faculty of UNMC in 1994, Dr. Hejkal has held numerous leadership positions.
He served as Residency Program Director from 1996 to 2013. He was selected for the Nebraska Medical Center Physicians Development Leadership Program, 2004-2007 and received the Chancellor's Council award for service to the medical center in 2001. Dr. Hejkal served as president of Nebraska Chapter of AOA medical honor society, 2000-01, and served on the Nebraska Lions Eye Bank Board of Directors, 1997-2003, holding the position of vice-chair, 2000-2003.
He also served as president of the Omaha Ophthalmological Society for several years. Dr. Hejkal served as Vice Chair for Clinical Operations from 2007 until he assumed the role of Interim Chair in April 2009. He was appointed Chair of the department in December 2009, and over the subsequent three years, he led the development of the Truhlsen Eye Institute which was completed in 2013.