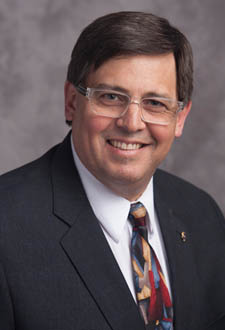 Dr. Langel is an optometrist who performs comprehensive routine and problem-focused eye examinations. He specializes in contact lens fittings and enjoys tackling those "hard -to-fit" patients.
Dr. Langel is a native of Omaha and did his undergraduate studies at the University of Nebraska in Lincoln. He earned is Doctor of Optometry degree cum laude from The Ohio State University in 1983. Dr. Langel has been with Eye Consultants since 2000.
Dr. Langel believes that it is important to give back to the community and has volunteered at One World Health Center for 12 years. In 2009, he received their Milagro Award for his service to the underserved population. He has been very active with the Lions Club, serving as President of the Westside Lions and past Chairperson for committees in District 38-0. He is a Past-President of the Nebraska Lions Eye Bank Board of Directors.
He is a member of the American Optometric Association Contact Lens Section, Optometric Glaucoma Society and has been involved with several committees of the Nebraska Optometric Association.
Dr. Langel is married to wife Elaine and has two daughters. His daughter Erin is a nurse practitioner and lives in Omaha with her husband, Jeff Merrell. His daughter Stephanie ha taught English to students in Japan and Italy. She is currently living in Omaha.