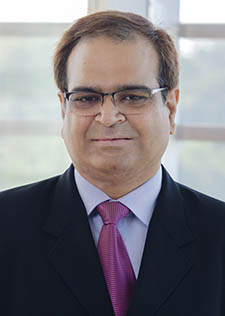 "After completing my Ophthalmology residency in India, I was fellowship trained at premier institutes like Sankara Nethralya, Chennai, India and Truhlsen Eye Institute/UNMC, Omaha in vitreoretinal surgery. A scholarship by the International Council of Ophthalmology (ICO) allowed me to pursue further training in Ocular Oncology (Eye tumors) at Wills Eye Hospital, Philadelphia.
Besides complex vitreoretinal surgery, I have been focussed on the care of eye tumors (retinoblastoma, melanoma, vitreoretinal lymphoma) and paediatric retinal disease. In the nearly 20 years of practice in a university teaching hospital in India, I was involved in training over 100 fellows, residents, medical students and Optometrists, including those from Nepal, Bangladesh, Kenya, Afghanistan, Azerbaijan, and Malaysia.
At Omaha, I aim at developing a new service line for Ocular oncology and paediatric retinal care that serves the upper mid-west area.
In my spare time, I enjoy biking, swimming, and travelling, besides spending time with my family."